So when someone asks...what is a staple you have in your beauty collection, I think of things that I find myself buying over and over again. There are some products I've tried just once and threw them out, but others I find myself re-purchasing for years. All the products mentioned, I feel, are quality products that can be found at a very reasonable price. Some of these mentioned, I have been using since high school...even middle school! I've come up with 5 must-haves for your beauty collection. I hope you get the chance to try some of these out if you haven't already!! :)
1. Treseme Shampoo/Conditioner
My hair misbehaves every. single. time. I get out of the shower and believe me...I've gone through probably close to every kind of shampoo/conditioner lines the drugstore has to offer. The one I keep coming back to over and over is the Treseme line. All their products are very affordable, you get A TON of product for your money. They smell FANTASTIC! (always a must). They offer various "types" for different kinds of hair. Lately...my fav has been their new Naturals line. It's lower in sulfates and silicones, which won't strip your hair of its natural oils or make it look dull. If you have ridiculously frizzy, unmanageable hair like mine...try this. It won't disappoint!
$5 per bottle at local drugstores, Target, Walmart <--- (where I've seen it the cheapest), etc.
2. Covergirl Lash Blast Mascara in "Blackest Black"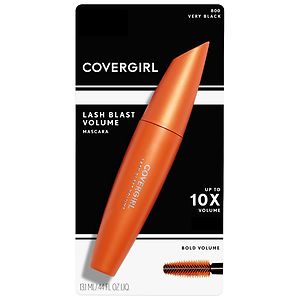 Now, I know most of y'all have tried this already. It's my go-to mascara that I just throw in my bag and use it for touch ups. I also grab it when it's on sale. The rubber brush makes it easy to apply mascara clump-free. The formula doesn't smudge or wear off during the day and it's easy to take off at night. I will say that it doesn't give uber amounts of volume, but it definitely is your "workhorse" of mascaras.
$5-$7 at local Drugstores, Target, Walmart, etc.
3. Olay Daily Facials Express in "Sensitive"
Now, I know that taking off your makeup with one of these babies is a no-no. But some nights you just can't help it. You guys know what I'm talking about. You're just so lazy that even washing your face becomes a chore. Well, doing this is better than nothing in my book! :) I use them prior to my Olay Pro-X spin brush and all traces of makeup from the day are gone! They're pre-moistened towlettes with a re-sealable cover. You can keep a pack in your gym bag for after your workouts and one in your bathroom. And at about $5-$7 per pack (30 towlettes per pack), you can't go wrong.
4. Paul Mitchell Super Skinny Serum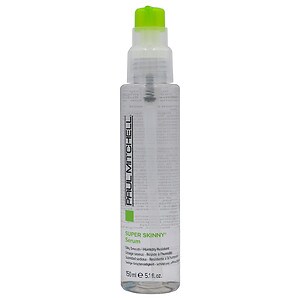 This one is a tad more expensive. You can find it at places like Ulta, Salons and anywhere where they sell higher end brand hair care. Even though it's about $18 a bottle, I still find it totally worth the money. First, it lasts FOREVER. I can buy one bottle and it will last me about 6-12 months. And second...it WORKS! It leaves my hair smelling fresh, shiny and looking just plain healthy...all while taming the ridiculous frizz. Look for sales around the holidays. I've been seeing some salons selling theme as a two-pack for $24. Just call and ask! :)
5. Clean and Clear Pore Perfecting Moisturizer
I've been using Clean and Clear products ever since my first breakout in middle school. I've found them to be very gentle and with my sensitive skin, that helps immensely. This particular moisturizer leaves your skin feeling fresh, dewy and doesn't leave a greasy feel. It says it helps with the appearance of pores, but I haven't really noticed a difference. Top it all off with an SPF 15 added in and you have yourself an awesome effective and gentle daily moisturizer you can get for about $6 at your local drugstore.
Hope y'all got some ideas for your next shopping trip! Don't forget to check out my twitter and youtube channel for updates on new vids and other postings.
Stay Gorgeous!! xoxo.
Laura